As the needs and wants of our customers and home and building owners evolve, our goal at Enertech is to be where energy meets technology. We started with geothermal heat pumps and more recently broke into the air-source space with our Advantage air-to-water heat pump. It looks like we aren't the only ones excited about what this product offers! Retrofit magazine listed the Advantage as one of its Top 25 Products in 2021. Let's dive into the advantages of the Advantage, according to retrofit and its readers.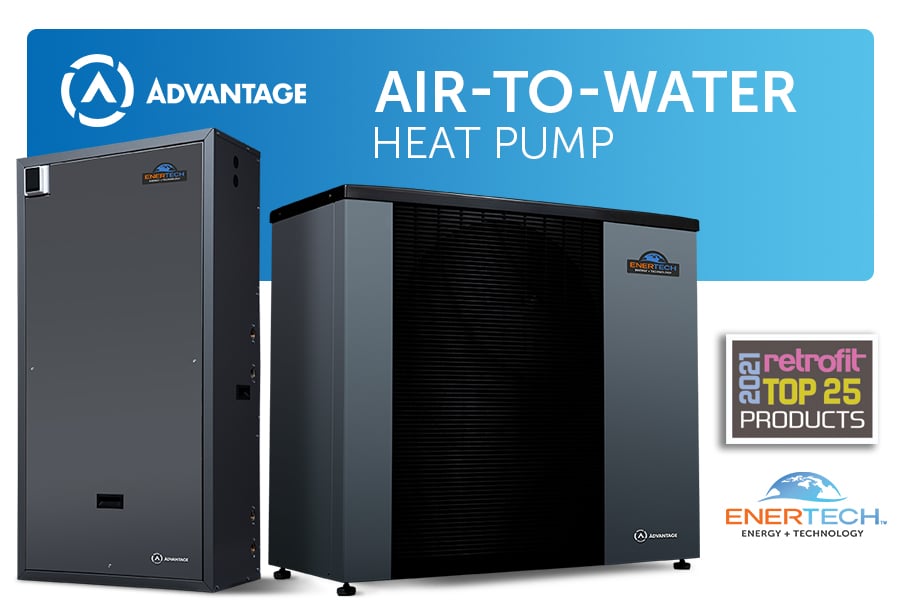 Radiant Heating and 100% of Domestic Hot Water with Less Hassle
The Advantage simplifies the installation process for home and building owners looking for radiant heating, 100% of domestic hot water production, and forced-air heating and cooling functionality in one HVAC system. It comes as no surprise given the name, but retrofit magazine focuses on products fit for retrofit applications. Because the Advantage offers many capabilities in one, compact system, contractors reading retrofit magazine voted it as a great choice for replacing gas, oil, or wood-burning boilers.
The First Packaged Air-to-Water Heat Pump
One of the main differentiators of the Advantage is its monobloc design. It's the first packaged air-to-water heat pump in North America. With the paired indoor and outdoor module, there's no need for any refrigerant piping/charging outside of the system. The Advantage was made to order simply and efficiently, providing contractors with everything they need to install an air-to-water system. The setup of the indoor and outdoor module saves dozens of hours of labor for indoor piping. The only piping needs include piping to and from the outdoor unit, piping to and from the domestic hot water tank, and piping to and from the hydronic manifolds/fan coil.
Enertech's Air-to-Water Heat Pump in a Real-Life Application
The Advantage is a great boiler alternative, but you don't have to take our word for it. In this real-life installation, the Advantage is used to provide homeowners with radiant heating, 100% of their domestic hot water needs, and forced-air heating and cooling. This way, homeowners can pair it with a solar array to heat and cool their home using power created on-site. When compared to a traditional air-source system, the Advantage is 40% more energy-efficient, making it a great solution for net-zero capable homes like theirs. At the time of installation, the projected monthly utility savings was $200. For a snapshot of the amount of power used by the air-to-water heat pump, the solar lifetime production was estimated at 3.73 MWh and the lifetime heat pump energy production was 2.51 MWh. That leaves 1.22 MWh lifetime energy left over to power the home's additional energy needs. This is very impactful when we consider that heating and cooling accounts for more than 50% of a home's energy use in a typical situation (i.e., a home using traditional HVAC methods).
If you're working on a project to update a radiant system, or if it's a new build, the Advantage might just be the perfect fit. With efficiencies up to a 4.0 COP even in freezing temperatures, the Advantage offers homes and buildings a true advantage in heating, cooling, and hot water.
Ready to talk about how the Advantage could work for your next project? Contact us to start the process for a free system design.