Do you imagine solar panels blanketing your roof and saving you energy and money with each golden ray? Then again, maybe your current home isn't your "forever" home. With an eye on selling in the future, you may wonder if solar panels will add value to your property.
They could. Look at the data we've gathered below and the following scenarios. Generating your own electricity with solar panels may indeed improve your home's value.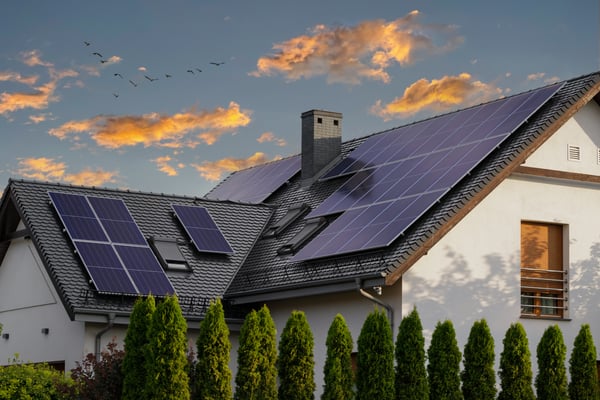 What We Know: Solar-Powered Homes Generally Appraise Higher
A home's value increases by $20 for every $1 saved on energy bills. If your solar panels save you $400 in a year, expect your home's value to increase by $8,000.

Nationally, homes powered by solar energy sell for 4.1% more on average than their non-solar counterparts. That's a $9,274 increase for a median-valued home.

67% of homebuyers rank energy efficiency as very important to extremely important in their buying decisions.

Homebuyers are willing to pay $15,000 or more for solar-powered homes versus comparable non-solar homes.
When Solar Power Adds Value to Your HOme
Your answers to several questions can help determine the likelihood that solar panels will increase your home's value.
Is my monthly utility bill significantly higher than the nation's average ($117.46)?

Solar panels will add greater value to your home if you live in an area where electricity costs more. For instance, in the greater New York City metro area, where electricity is high, homebuyers will pay $23,989 more for a solar home versus a comparable non-solar home.

Do I live in a state with a growing solar market?

States like California, Texas, and Florida offer incentives that benefit homeowners.

Solar panels add greater value to homes in states like these, where communities and legislators champion solar energy.

Is my solar system newer than 10 years old?

Newer systems and newer technologies increase your home's value just as well-maintained and regularly serviced systems increase their value.

Do I own my solar panel system?
If you lease solar panels from a solar provider, you do not own your system, and you cannot apply its value to your home.

If you paid cash for your panels, you own the system, and you can apply a measure of dollar value to your home. The value your panels add, however, will likely not equal what you paid for them. Real estate professional Craig Power likens it to a swimming pool scenario: "You spend $35,000 putting in a pool. You might be gaining $15,000 back in property value. The remaining $20,000 is for your personal enjoyment.

If you take out a loan to pay for your solar panels, you can apply a measure of dollar value to your home. Still, you must manage the debt. This scenario may scare potential buyers away.
Be inspired by the Edmond Solar Estates—where efficiency and economy meet beauty.
If solar panels look like an energy-saving option for you, get started by visiting Enertech's "Know Your Roof" checklist, or reach out to us below with any questions. We're here to help!