Like a thief in the night, that rattling air conditioner outside your bedroom window steals your sleep and sanity. Checking its decibel level slipped your mind in your excitement over its sale price and your haste to get that rebate form in the mail.
Toss, turn, turn, toss, pull that pillow over your head.
True, an insulated wall may stand between you and your unit, and maybe heavy interior curtains. But its cycling on and off can still have a jarring effect. So jarring, in fact, that the need for quiet has created a robust market for noise-reducing products like sound fences, sound panels, and outdoor acoustic "blankets."
It's about time, say researchers and clinicians. They group air conditioners with other noise pollutants that contribute to hearing loss, tinnitus, cardiovascular disease, cognition problems, and more. Noise, it turns out, is more than an annoyance.
RECLAIM QUIET COMFORT WITH GEOTHERMAL HEATING AND COOLING
Conventional HVAC systems rely on blowers, fans, and belts to transfer heat to and from the outdoors. Particular sounds—rattling, buzzing, popping, clicking, squealing—reveal particular problems.
In contrast, geothermal systems quietly transfer heat via a liquid that travels via loops of pipe buried underground. Most of its work takes place in the earth, out of sight, out of earshot, and silent.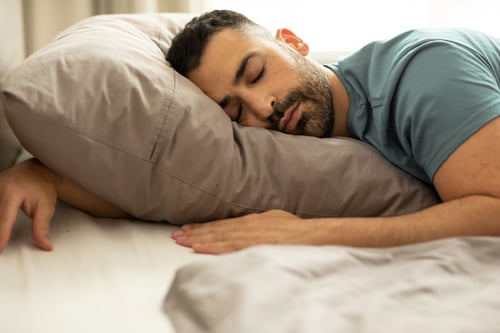 More homeowners are realizing the joys of geothermal's quiet comfort, including those in communities like these that integrate green spaces and sustainable features with a softer soundscape:
Whisper Valley

(Austin, TX) is a sustainable master-planned community that emphasizes energy efficiency and quiet living.

Middlebrook Farm

is an agrihood that connects people with food and the land it comes from. 

Trilith

is an "idyllic walkable community" that just so happens to be the largest geothermal development in the U.S.   
Visit Enertech today to see how you can turn your tossing and turning into night after satisfying night of "Ahhhh . . . such good rest."