In the quest to learn more about geothermal it can be difficult to find all the information you need to form an educated opinion. While it's easy to research all of geothermal's benefits (savings, efficiency, comfort, and more), it's a much more difficult task to learn about the true costs involved when installing this technology, and where your money is going when you do decide to invest! Let's break down what a geothermal heating and cooling system could cost you.
What Does Geothermal Cost?
By far the most common question that we're asked is, "How much is this going to cost me?"
Let's tackle that right here. For a solution that handles heating, cooling, and at least a portion of your hot water needs, the average starting investment for a geothermal heating and cooling system ranges between $18,000 to $30,000 for this all-in-one solution. See? That wasn't that hard!

Now, for a bit of a disclaimer: Costs will vary widely based on a huge number of factors. The average above is based on a home that's around 2,500 square feet with decent insulation. The size of your home, type of insulation, windows, soil composition, zoning needs, and existing ductwork quality are just a few of the factors that change the amount you'd be quoted from an installer.
Another factor that can massively impact your total investment is available incentives. While all geothermal systems that meet Energy Star requirements are eligible for the federal tax credit, other local and state entities often offer lucrative incentives for renewable energy technologies. We'll go into greater detail on what's available later on! For now, know that these incentives could save you thousands on your installation.
Geothermal Heat Pump Installation Cost Breakdown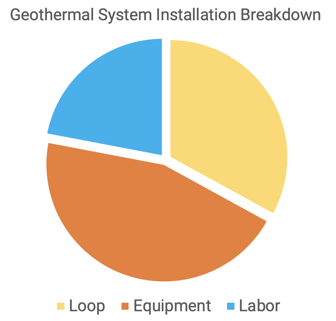 While you may have purchased a traditional system for your home before, geothermal systems have components that are totally foreign to anything involved with a conventional AC and furnace installation. When talking about a significant purchase like this, it's important to know the breakdown of where your investment is going. We surveyed dozens of geothermal installers and found the average percentage of the total cost that each portion of a geothermal system installation consumes.
As you can see, the most cost-intensive parts of the geothermal puzzle are the loop system and the equipment. Being the main form of heat exchange, the loop is the defining feature of a geothermal heat pump and the main source of the savings that homeowners with geothermal experience. The loop requires specialized digging of some sort, be it drilling vertical wells, horizontal boreholes, or trenching. However, when placed properly, the loop field won't require much if any maintenance or repairs for a lifetime, and it will continue to provide savings and efficient performance long after you've left the home.
How Much Can You Save With Geothermal?
Aside from comfort, dependability, and long-term performance, homeowners choose geothermal because of its chart-topping efficiencies and subsequent savings on utility costs! When installing geothermal, there are multiple ways to cut your costs – both on and after the installation. At the time of installation, homeowners can make use of incentives and financing to cut costs and even install the system for zero down. After the installation, geothermal helps homeowners aggressively cut costs on their heating, cooling, and water heating bills.
Upon Installation
The first and most popular way to save on geothermal is to take advantage of credits and rebates from local utilities and state and federal programs!
Currently, the Federal Residential Renewable Energy Tax Credit offers a 26% personal tax credit on all geothermal systems installed through 2022, dropping to 22% at the start of 2023.

You can also install a geothermal system for little to zero money down with Enertech's homeowner-focused financing options through Clean Energy Credit Union!

Learn more about financing your investment with competitive rates, flexible terms, and loan amounts of up to $150,000.
After Installation
Geothermal heat pumps are the most efficient heating and cooling solutions on the market, according to the U.S. Environmental Protection Agency (EPA). This is due in part to the loop system which we covered previously, and in part because of the superior components that come standard in geothermal units. When you add all this up, geothermal can easily save homeowners up to 70% on the heating and cooling costs, and up to 40% on water heating costs!

For the average homeowner

with a 2,500 ft

2

home that switches from a conventional system to geothermal, it's common to see annual savings of $1,600 or more. Over the average 25-year life of a geothermal system, that adds up!
Let's assume that you're quoted a geothermal system for $24,000 and are estimated to save $1,600 per year on utilities to heat, cool, and provide hot water to your 2,500 ft2 home.
The Federal Residential Renewable Energy Tax Credit will effectively reduce that cost by $6,240

- down to $17,760.

Your electric Co-Op offers a $250 per ton rebate for your 3-ton system

- down to $17,010

Without financing, your savings pay back your system in

10.5 years

If you stay in your home for the national average of

13 years, you profit $4,000

If you stay in the home for the 25-year lifespan of your system,

you profit $23,200
Geothermal is the only technology that's able to turn this kind of profit due to its high efficiencies that conventional systems simply aren't capable of achieving. If you choose to finance your new geothermal heat pump, on top of installing the system for zero money down, your savings are likely to outpace your monthly loan payment.
You can save on your utilities while maintaining consistent comfort, pristine air quality, and a next-level peace of mind within your home. If you're looking to build a new home or are looking to upgrade your aging system before a catastrophic failure forces you to do so, a modern geothermal heat pump should truly be the first place you look!
If you'd like to get in contact with an installer near you that's perfectly suited to your home's needs, we'd love to help. Let us know about your project and get a quote at the link below, and we'll get you pointed in the right direction!